Introducing Helix - Subscription payments for crypto

Léo Mercier
Jan 18, 2023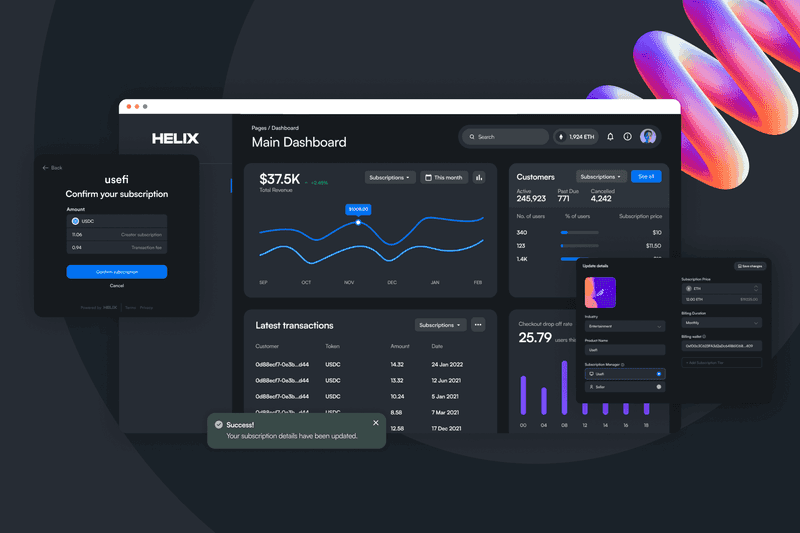 Crowdform Labs is excited to announce the public launch of Helix, a revolutionary new gasless recurring Web3 subscription payment service. Launched in December 2022 with MintStars, a creator platform, Helix has already begun processing its first payments and is poised to revolutionise the way businesses and consumers handle subscription payments using cryptocurrency.
Using blockchain for payments has many benefits, including increased security and transparency, as well as the ability to process payments in a decentralised way. Helix takes these benefits to the next level by eliminating the need for customer-facing gas fees, making it more frictionless and accessible for users.
By design, Helix is compatible with any wallet, which makes it easy for your customers to use. They can simply connect their MetaMask, WalletConnect or other existing wallet to your website and make a payment without any additional setup or registration required.
This is particularly useful for the customers who prefer to use non-custodial solutions, which allows them to have full control and ownership of their assets, rather than trusting a third party to hold them.
One of the major challenges to date with using stable coins for payments is the issue of gas fees. These fees can add up quickly, making it difficult for businesses to offer subscription-based services and added complexity for consumers to maintain a balance of both the native gas token (Ethereum or MATIC) and the stable coin (USDC). Helix solves this problem by using a new gas less meta transaction method that eliminates the need for gas fees from the customers side, instead charging the gas fee via a low cost transaction fee in the stable coin, making it more affordable and accessible for everyone.
One of the key benefits of Helix as a payment option is its significantly lower transaction fees compared to traditional payment methods such as credit and debit cards. With Helix, the transaction fee is only 1%, whereas traditional transaction fees for credit and debit cards are typically from 20p + 1.4%. This is achieved by the use of blockchain technology, as it eliminates the need for intermediaries such as banks and payment processors.
Helix has a wide range of potential use cases and can be used by any business that needs to process recurring or one off payments in crypto. Integration is simple for developers using the Helix SDK, as well as for no code solutions with the creation of multi use payment links via a few clicks in the Helix Dashboard. Use cases include subscription-based services like streaming platforms, software as a service, and online publications. Helix opens up new opportunities for businesses in the gaming and NFTs space, as well as for creators and influencers looking to monetise their content.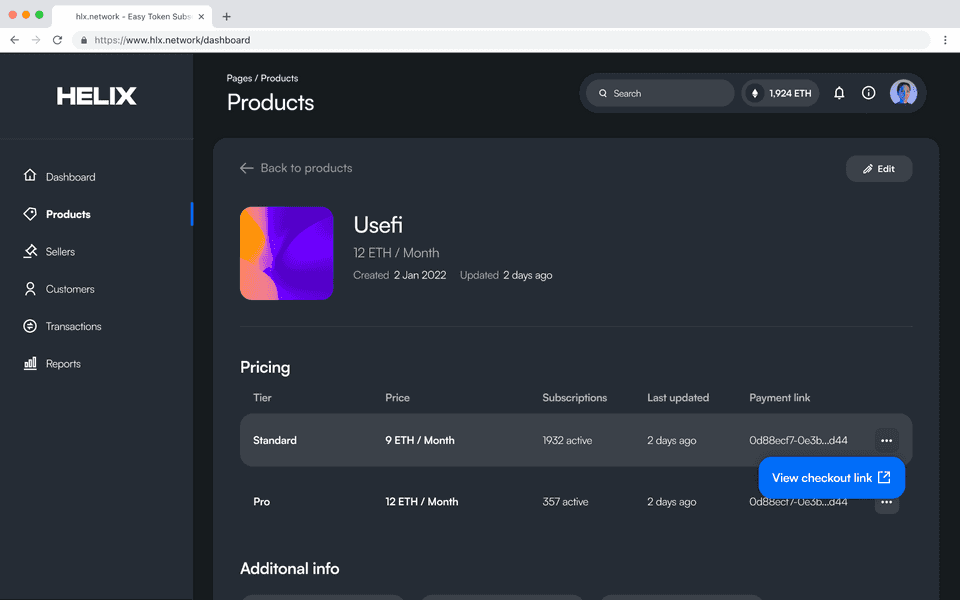 By using Helix, your business not only benefits from lower transaction fees, but it also provides a more secure, transparent, and private way to process payments, which can help you to attract users in a growing market space who are looking for more secure and decentralised payment options.
Helix's target partners are individuals, businesses and large enterprises who want to process recurring payments on the blockchain. This could include creators and influencers looking to monetise their content, typical e-commerce experiences and in-game memberships. Giving customers a more affordable and accessible way to pay for their subscription-based services.
Helix is currently live and operational on the Polygon blockchain, and it currently supports USDC as a form of payment. With a roadmap in place, Helix plans to expand its capabilities to support any ERC-20 token in the future. This will provide more flexibility for customers and allow them to make payments using a wider range of digital assets.
Crowdform is a verified partner of Helix to help with the implementation and integration of Helix into existing e-commerce platforms, making it easy for merchants to start accepting USDC as a form of payment.
We invite you to visit the Helix marketing website to learn more and request a demo of this revolutionary new service.
---

Léo Mercier
Léo is co-founder and technical lead at Crowdform.