Crowdform joins Pioneer, a leading web3 incubator

Ewan Collinge
May 5, 2022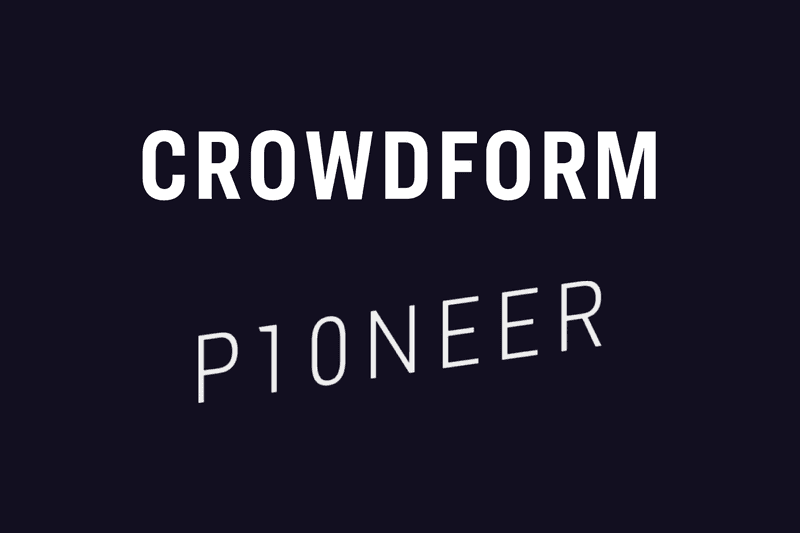 We have some very exciting news at Crowdform HQ today. We're joining Pioneer, a group of companies building web3 ventures, and adding two new arms to our business – a venture builder and game studio.
There will now be three areas within the company: Crowdform Studio, Crowdform Labs and Crowdform Games.
Studio is our client services business, operating the same way Crowdform does today. We will continue to work with innovative startups to help them design, build and grow amazing products. As before, we will prioritise working on projects that we believe in and that align with our founding mission – "To help the world's innovators create digital products their customers can't live without".
The first new area is Labs, a venture studio building web3 startups from scratch. Our mission is to build innovative ventures that form part of the infrastructure of web3. Combining our resources, knowledge and product-building expertise we will take ideas from concept to launch and scale, repeatably. Our focus is on speed to market, growth and creating sustainable enterprise value in the companies we build. By harnessing the information advantage and domain expertise within the Pioneer group we are able to identify opportunities and move fast to build products that fill gaps in the market.
We're also launching Games, a game studio creating games with a focus on play-to-earn and web3. Our purpose is to build games that become leaders in the emerging web3 play-to-earn space. With a focus on experimentation and speed combined with the work we're doing in Labs and Studio, we will build compelling games that explore opportunities at the cutting edge of gaming business models – utilising blockchain technology to build new types of game economies and communities.
Why now?
We have spent 7 years building the company we have today. We're incredibly proud of the work done by our team and the achievements of our clients to date. As a studio that has always worked primarily with startups, we have a deep understanding of the value and incredible opportunities that come with being able to build compelling digital products.
As founders, we've long seen the future of Crowdform as becoming a venture builder that uses our knowledge and resources to build companies from scratch rather than operating solely as an agency. Joining Pioneer gives us the opportunity to realise that vision and deliver on it in partnership with a group of highly capable, experienced and motivated people across the portfolio.
Our core purpose of building great digital products stays the same, but now we are part of a wider mission that gives us skin-in-the-game with exciting ventures and the chance to make an impact on a bigger scale.
About Pioneer
Pioneer is a leading web3 incubator based in Vancouver, Canada that invest in, build, or acquire explosive growth companies. Their mission is to build a comprehensive web3 ecosystem. They are a partnership of founders, investment professionals and technology experts from around the world with collective experience of creating and building companies with a combined market capital of more than $2 billion.
The Pioneer group includes leading companies in web3, NFT gaming, social tokens, esports & mobile games. Learn more about Pioneer's mission here or view the companies in the group here.
This is the start of a new and exciting chapter in the history of Crowdform and we look forward to building out an ecosystem of products that we hope will form part of the infrastructure of web3 and shape the future of the space in gaming, NFTs, payments and beyond.
---

Ewan Collinge
Ewan is co-founder and product lead at Crowdform.