The Importance of Digital Product Strategy

Léo Mercier
Aug 25, 2021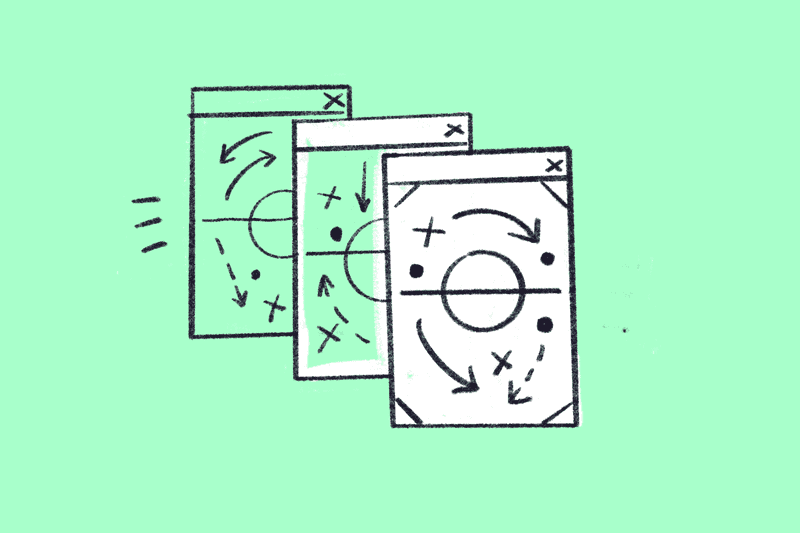 Launching new products, in any market, is challenging. Research from Harvard Business School found that around 95% of new products fail. Although this didn't focus specifically on digital products, the message is clear — if you're going to take a product to market, you better be prepared.
That's why 70% of businesses refer to their product strategy whenever they're making major decisions. However, there's a big difference between an effective product strategy that drives you to success and one that falls flat and doesn't give you any advantage at all.
In this article, we'll look at why product strategy is so important, and then show you some of the ways that digital product creators can ensure they do it the right way.
What is product strategy?
Product strategy, in simple terms, is a plan for what you'll do with your product from creation to market.
You build a product strategy by asking questions like, "What do we want to achieve with our product?", "How will it impact the organization and our customers?", and "How do we get there?".
This allows us to put together a roadmap for our product, guiding everyone on the team in the direction of success and giving our new project the best possible chance of success.
Why is product strategy so important?
It provides structure. A well-planned product strategy provides a reliable framework for your entire product delivery process. Instead of flitting between different approaches, relying on guesswork, and changing your game plan every five minutes, you'll have a solid and dependable roadmap to follow every step of the way.
It helps you meet your clients' needs and your desired outcomes. Good product strategies are built to deliver results. From the beginning, they're crafted to ensure you dazzle your customers, obliterate their expectations, and hit the specific goals you set at the start.
It helps you track progress and make necessary changes. The best product strategies are data-driven. They involve tracking certain metrics to measure your success and make it easy to notice when things aren't working out so you can make adjustments. This is far more effective than simply basing decisions on guesswork and hunches.
Ensures clarity and focus. With a solid product strategy, everyone knows what's happening and what their specific role is. Developers, marketers, and sales staff will be able to work on the right specific areas instead of everything at once. In addition, everyone will be aware of how their specific work is impacting the overall process, so they can do their jobs as effectively as possible.
How to create an effective product strategy
Be clear on what you want to achieve from the outset
The very first step when building a product strategy, should be to establish a clear vision and specific, concrete goals. This will inform the rest of your strategy, and everything else you plan and do should align with this overall vision.
Think about specific things you want to achieve. Goals can be focused on business (like how much you want to increase revenue), market (like breaking into a new age demographic), or customers (like smashing customer satisfaction records).
Choose the right metrics to track and track them carefully
Once you have set some clear goals, you need to figure out how to measure your progress in achieving them. This means deciding on the right metrics to track. Some examples include conversion rate, monthly recurring revenue, and customer satisfaction scores.
Tracking the right metrics allows you to constantly confirm that you're on target to reach your goals. It allows you to immediately notice when something isn't working out and ensures everyone on the team is on the same page.
Intimately understand your customers and their needs
The whole point of your product is to meet your customers' needs, and this should be reflected in your product strategy. In general, you should start with customer research — build user personas and conduct interviews, focus groups, and market research to make them as detailed as possible.
You also need to acknowledge that your customers' needs and preferences will change over time, and be prepared to adjust your strategy accordingly.
Be agile
The strategy you create at the very beginning is unlikely to be the best possible strategy. As time goes on and you receive more data, market forces change, and your competitors make moves, you'll almost certainly need to change course and adapt your strategy.
Make sure your teams are prepared to be agile and make changes. Don't get locked into one static strategy.
Keep your teams aligned
The various elements of your business should always be aligned when it comes to product strategy. Make sure sales, marketing, product design, and everyone else is on the same page and share in the vision and strategy. Everyone should be aware of their personal role in the strategy and what impact they have.
Use positioning wisely
Positioning is how we determine where your product will fit in the marketplace and who it will benefit. This involves asking what unique problems your product solves and how you can communicate that to your potential customers.
Understanding your product's positioning will inform your entire strategy, from the content you write and share to the channels you use.
Find out what the competition is doing
Your product is unlikely to be the first of its kind in your target market. It's important to ask who you'll be competing with, and what your product offers that nobody else's does. Will you be able to hold your own against them in a market they may be established in?
Also, ask what they are doing right in terms of strategy that your team can learn from and possibly replicate to give your product the best chance of success.
Product strategy is an incredibly important part of launching and delivering any digital product. It allows you to take a much more disciplined, data-driven, and structured approach to the entire process, giving you the best chances of succeeding in a famously challenging task.
Crowdform has helped countless companies with digital product strategy,. We'll guide you through all the steps like establishing a coherent vision, determining the right metrics to track, bringing your teams into alignment, and much more.
To find out how Crowdform can help you with digital product strategy — and a wide range of other aspects of building and launching a first-rate digital product — get in touch.
---

Léo Mercier
Léo is co-founder and technical lead at Crowdform.