How travel tech will save the post-pandemic world

Bruno Teles
Apr 9, 2021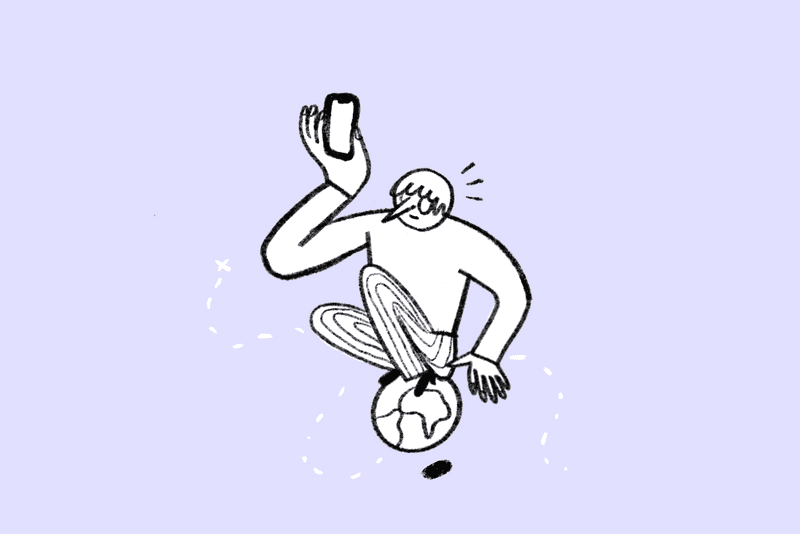 The COVID-19 pandemic has affected some industries significantly more than others, and one of the hardest-hit areas has been the travel sector.
2020 saw a staggering 62% decline in travel spending in the UK compared to 2019. Just about every part of the industry suffered massive hits — planes were grounded, airlines required major financial assistance, hotels were closed, and entire tourist towns around the world lay eerily empty.
As the world slowly inches towards the end of the pandemic, the big question for the travel industry is, how do we recover? How can travel companies around the world pick up the pieces and begin functioning in a post-pandemic world?
In this article, we'll take a look at why the travel industry has suffered so much over the last year, and look at some exciting ways companies can harness technology to recover and thrive in the years to come.
The challenges of COVID-19 for international travel
The impact of COVID-19 on travel has not been confined to any single country. Every single region in the world has suffered tremendously in the pandemic. Here's a handful of stats to illustrate the issue:
International tourism has fallen to similar levels to 30 years ago
There's been a 74% drop in international tourist arrivals
100-120 million tourism jobs are directly at risk
The forecast looks bleak, to say the least. But what comes next, as vaccinations slowly creep along and countries begin to tentatively open their borders to foreign arrivals?
What will travel in the post-COVID world look like? There are reasons to be pessimistic — lockdowns, shaken confidence, localised COVID outbreaks, vaccination delays, and new COVID variants all pose risks to the recovery process.
However, people want to travel — over half of Gen Z (57%) (aged 18-24) say they're feeling optimistic about their future travel plans, and over half (58%) of those aged 65 plus say their attitude towards preferred holiday types has remained unchanged by the pandemic.
For companies in the travel space, the challenge is going to be creating an infrastructure that allows people to travel safely, feel safe, and minimise the risk of spreading the pandemic. Technology is going to be a powerful asset in that quest.
How tech will enable travel in a post-pandemic world
The power of apps
Our smartphones have been a crucial component in our travel activities for quite some time. Maps, taxi apps, booking apps, banking apps, and e-ticket apps are just some of the many examples.
In a post-COVID world, apps could play an essential role in returning to normal. They could be used to help travellers find and book quarantine hotels quickly, ensure quick and reliable access to medical care when needed, and share information like vaccination status and test results much more conveniently.
Logistical changes
There are many ways in which tech can help us protect ourselves from COVID infection — and keep others around us safe — while we travel. Logistics software can be used to prevent crowds from forming in spaces like airports and busy towns, reducing the risk of viral spread.
On a broader basis, tools like contact tracing apps — while they've been somewhat hit-and-miss so far — certainly have potential when it comes to quickly detecting and mitigating disease outbreaks and keeping individuals safe.
New Payment Models
One of the ways travel businesses can adapt to the post-pandemic landscape is by offering new payment models and plans that give customers more flexibility in an uncertain world.
One possibility here is a timeshare-style model, where customers might pay for several stays in their favourite hotel in advance as a way of supporting the business and perhaps accessing a discount. This mirrors the coupon approach taken by many bars and restaurants during periods of lockdown, allowing customers to pay in advance for better times.
Another option might be subscription-based models where customers pay a regular fee to a platform, allowing them access to perks, exclusive access, or credit from participating travel businesses. Think ClassPass for travel.
New airport habits
Airports have always been a confusing and bureaucratic place, and that's probably only going to increase when travel resumes in full after COVID. When it comes to ensuring hygiene and make it as easy as possible to comply with new travel regulations, tech can play a key role.
One example is touchless check-in, allowing us to quickly show our boarding information and check-in to our flight electronically, without the need to touch the same surfaces and materials as thousands of other passengers. There is also talk of digital vaccine passports, where travellers will be able to instantly show proof of vaccination or a negative COVID test using their phone.
Changes to work habits
The way we work has a profound influence on the way we travel, and the pandemic looks set to alter our working habits in numerous ways, supported by technology.
One example is the stratospheric rise in remote work over the past year. The number of people working remotely for 5+ days per week has increased from 17% before COVID to 44% today. This could change the way we travel, leading to a combination lifestyle where holidays factor in a period of remote work, and that has major implications for the travel industry.
Another possible change here is a reduction in business travel in favour of Zoom calls and other remote communication. In a recent survey, only 7% of companies around the world said they'd resume international business travel in the near future, which could lead to a significant shift in traveler demographics.
The travel industry faces a bumpy road to recovery over the next few years, but the demand is still there. The companies that succeed most in this new landscape will be the ones who embrace technology to adapt to a post-pandemic world as effectively as possible. Those who fail to do that will find the journey back to normal much more challenging.
The ability to build powerful digital products will be a central element of this journey. To find out how Crowdform can help you design and build digital products and services for all sectors, get in touch.
---

Bruno Teles
Bruno Teles is Head of Studio at Crowdform Brazil.