How to find out if you're building a digital product people actually want

Léo Mercier
Apr 10, 2019 A key part of building digital products is discovery. You've got an idea for a new product or business – but how do you know if your users or target market actually want it? The answer is simple: test and learn. Assumptions without evidence lead to wasted time and money. We apply this with our clients in the initial phases of a project, and take the same medicine when developing ideas for our own ventures.
This article explains some basic concepts of our approach to product discovery through a practical example we're working on at the moment.
Digital Product Inspiration
It all started when I was on holiday with my girlfriend a couple of weeks ago. She kept scrolling through Instagram looking for some new sunglasses. But every time she found a nice pair, she'd get redirected to a clunky looking website with a really long checkout process. She could never be bothered to fill it all in and would always give up halfway through.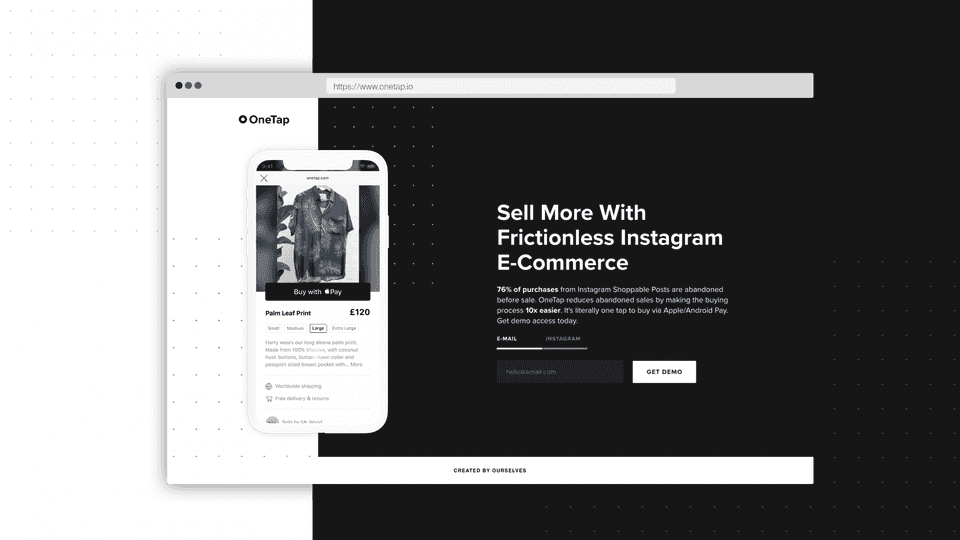 Get One Tap - landing page used to promote on ProductHunt
This seemed like a wasted opportunity for the seller – and for her. So, it got me thinking, what if you could use Apple Pay to create a stupidly easy checkout experience? It would allow customers to authorize payments which Touch ID, add shipping details using the Apple Pay UI, and most importantly – eliminate the need to manually add a card or fill out forms each time.
Instead of being redirected to an annoying, conversion-killing checkout process you could pay just with the tap of your thumb.
As much as I liked the idea, I was well aware that it would take time to get an MVP out something we are used to doing as part of our venture studio. And without any evidence of interest that seemed like a lot of time to potentially waste. I needed to talk to potential customers before building anything. So I opened up Instagram and started direct messaging fashion accounts asking about their current checkout process and whether they'd be interested in trying out something new.
But only a handful of replies trickled back in. Without a working demo, people were struggling to visualise the idea.
Test an idea with a landing page
A simple landing page with a demo video would bring the idea to life and enable us to get proper feedback. So we spent some time over the next couple of days working on a simple video and putting up a landing page with a "Get Demo" email box to capture interest.
We then went back to all the fashion accounts, sharing the demo video with them, before posting on Product Hunt the next morning.
Success! At the closing bell we had 300 emails.
We emailed them asking:
What product they were trying to sell?
How much they were willing to pay for it?
Any general feedback on the product?
After some back and forth on email, we arranged five calls, two of which were with "Heads of Commerce" at fairly large fashion brands. They both offered great advice and expressed interest in partnering.
And that's currently where we're up to. Certainly early days, but I think this story is a good example of how to get feedback and slowly win over customers before building your product.
An important point to note (and a phenomenon well-documented by decision theory) is that how much people say they're willing to pay ≠ how much they're actually willing to pay. The same goes with people's willingness to change to a new platform. Both are on our list to test next.
Now, as we continue to explore building out the technology behind OneTap we can nurture leads, get feedback from potential customers and launch with merchants ready to go.
---

Léo Mercier
Léo is co-founder and technical lead at Crowdform.