We've won a Sabre Award!

Ewan Collinge
May 18, 2017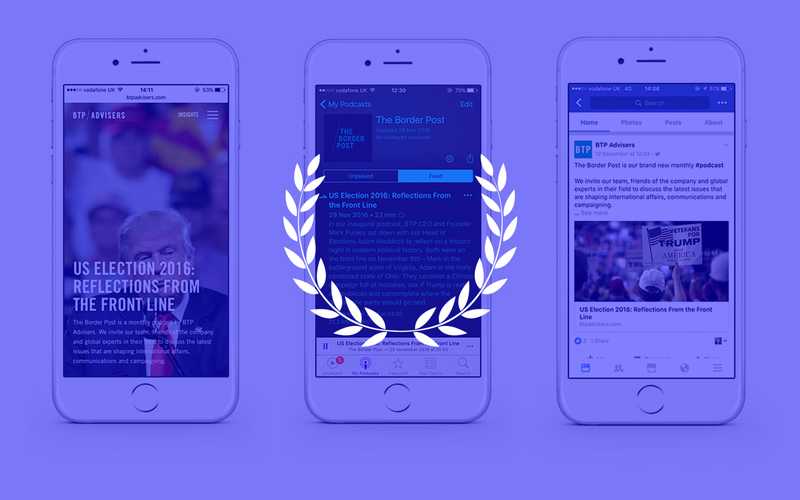 The Sabre Awards recognise outstanding work in the world of PR, covering everything from major campaigns to the year's best agency websites. We cleaned up in the latter category for our portfolio-cum-publishing site built for BTP Advisers.
They're a political PR agency, working on elections and politics crises around the world.
Their team came to us with an ambitious challenge: build us the best PR portfolio on the web, and create a platform where we can share our unique perspective on global politics. Their aim was to position BTP as a thought-leader in the industry, and briefed us to come up with a creative solution.
Our response was "Insights", a publishing platform within the site for articles and podcasts produced by them and their collaborators. We wanted their stories to feel as impactful as possible, so our starting point was the idea that every article should feel like a longform feature. The result is a reading experience that feels as weighty as any of the top online editorial outlets.
The primary design goal was to communicate the forward-thinking, global approach taken by BTP, and to emphasise the information edge they have over their competitors. We developed a restrained, statement-led design toolkit, and pulled in some novel UX elements like autoloading a new article, contextual page transitions, podcast waveforms and, importantly, some clocks in the footer.
It's some of our best work, and we're happy to share our shiny Certificate of Excellence with the talented people at BTP and Samuel Muir Studio that made the project a success.
Think you've got an award-winning brief in the works? Get in touch with us at hello@crowdform.studio.
---

Ewan Collinge
Ewan is co-founder and product lead at Crowdform.